Thanks to the support of people like you, LightSail® is our greatest shared accomplishment! Our LightSail 2 spacecraft was in space for more than three years and successfully used sunlight to change its orbit around Earth. Together, we demonstrated that solar sailing is a viable means of propulsion for CubeSats.
Now it's time for the next chapter of LightSail's continued mission. That's where you come in!
We need to educate the world about the possibilities of solar sailing by sharing the remarkable story of LightSail with scientists, engineers, and space enthusiasts around the world. Every successful mission has a book to go with it - and now LightSail will too! We are going to publish a commemorative book for YOUR mission. Filled with the best images captured by LightSail, this book will be filled with details on the development of the mission, stories from the launch and more! When you make a gift today, you'll be the first to know when it's released!
Along with the book, we will be disseminating our findings in scientific journals and at conferences, and building a master archive of all the mission data to share with engineers, scientists, and future missions.
There's still a lot to do and as a member of the LightSail mission team, we need your support to secure LightSail's legacy.
LightSail is your legacy! Your donation will help us secure that legacy and share the successful story of LightSail.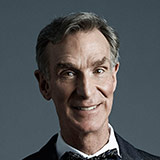 Bill Nye
CEO, The Planetary Society